Capital Rodders Club meeting
is on the last Tuesday of every month
***
28 Aug Capital Rodders Club Meeting Clubrooms, Onepoto 7.30 pm
2 Sep Ram Rodders Father's Day Show & shine CBK (Craft Bar & Kitchen), Perry Street, Masterton
2 Sep Larf N Tiger Rodders Breakfast 9am Start
9 Sep Capital Rodders Guide Dog Run
13–16 Sep Kaikoura Hop
16 Sep Western Bays Petrolheads Hot Rod Show, NZ Kennel Club
22 Sep Constructors Car Club Driver training track day
25 Sep Capital Rodders Club Meeting Clubrooms, Onepoto 7.30 pm
14 Oct Wairarapa Vintage Car Club 50th Jubilee Car Show Solway Showgrounds 9.30 am
12-14 Oct Egmont Rod & Custom 2018 Sci Fi Run Cordelia St, Stratford
20 Oct Women's V8 Car Cruise Lower Hutt to Shannon


© Capital Rodders Inc. All rights reserved.
Guide Dog Fun Run...
Our 14th annual guide dogs fun run is on 9 September 2018. We look forward to seeing you on the run.
So far we have raised $22,800 for the Blind Foundation over the years we have been running this succesful event
Thanks again to all our sponsors.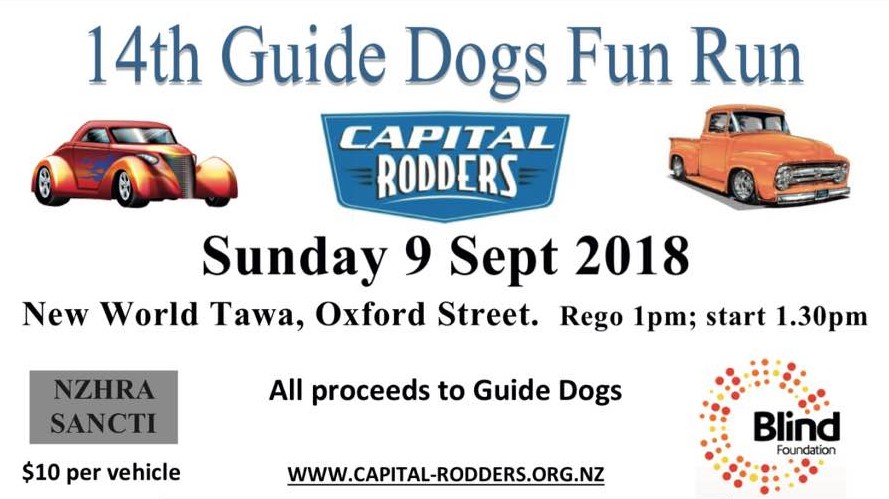 Swap Meet - 20 May 2018
Thanks to everyone who came out to the Capital Rodders General Metal Recyclers 8th annual Swap Meet and Vehicle Display at the Trenthan Racecourse, Upper Hutt. This event is always popular and we had a great variety horsepower on display, awesome car parts stalls, auto memorabilia and many happy customers.
Special thanks to our sponsor General Metal Recyclers. You can check out photos from previous events on our facebook page.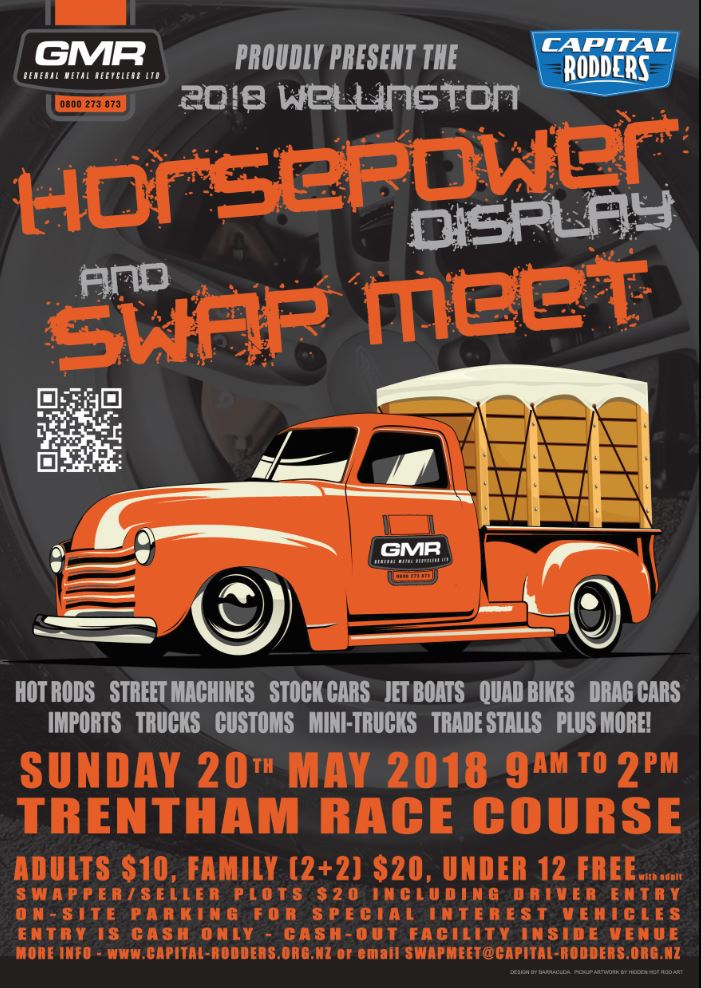 Here are some pictures from recent events. You can also check out more pictures on our facebook page