1st Sunday of every month, Gear Jammers, Petrolhead Breakfast, Sandbar, Mana
Last Friday of every month, Wellington Rodders 8.30 cruise
Last Tuesday of every month Capital Rodders Club meeting

***
31 Oct Capital Rodders Monthly Meeting

5 Nov Hustlers R&C Petrolhead Breakfast Larf N Tiger 9 till 11am+
17-19 Nov Fifeshire Street Rodders NZHRA National Show. Nelson
24-25 Nov Capital Rodders 50th Anniversary
25 Nov Gold Coast Rod & Custom 40th Anniversary Hot Rod run
26 Nov Cam County Port Rd Drags
28 Nov Capital Rodders Monthly Meeting
3 Dec Hustlers R&C Petrolhead Breakfast


© Capital Rodders Inc. All rights reserved.
Guide Dog Fun Run...
Wellington turned on a great day for the 13th Annual Guide Dog fun run held Sunday 10 Sept 2017. So far we have now raised $21,100 for the Blind Foundation over the years we have been running this succesful event. We'll post up some photos soon. Thanks again to all our sponsors.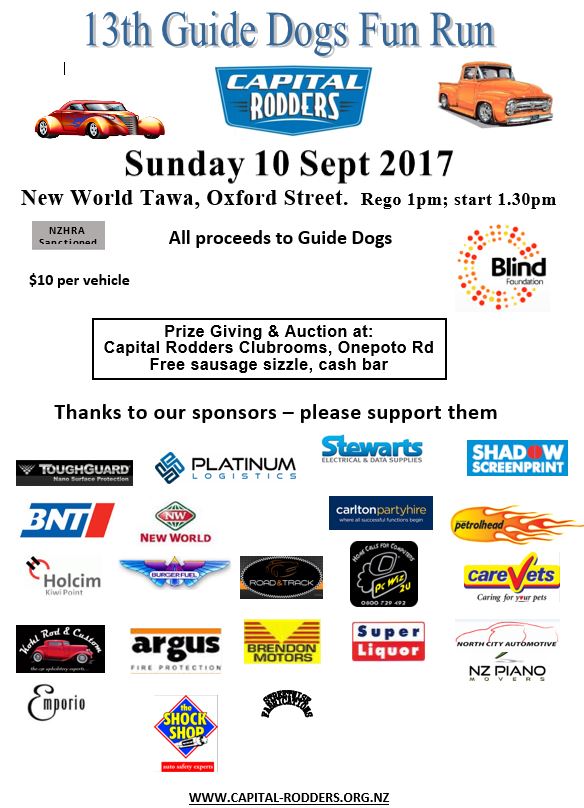 Swap Meet - 21 May 2017
The Capital Rodders General Metal Recyclers 7th annual Swap Meet and Vehicle Display is on Sunday 21 May 2017, 8am to 2pm, at the Trenthan Racecourse, Upper Hutt. This event has established itself as one of the 'must go' swap meet events on the annual calendar, with lots of awesome cars on display, car parts stalls, auto memorabilia and many happy customers.
Entry is cash only, $10 for adults, $20 for a family (2+2), under 12 free. Seller/swapper plots $20 including driver entry. On-site parking for special interest vehicles.
Mark the date in your calendar. You can check out photos from previous events on our facebook page.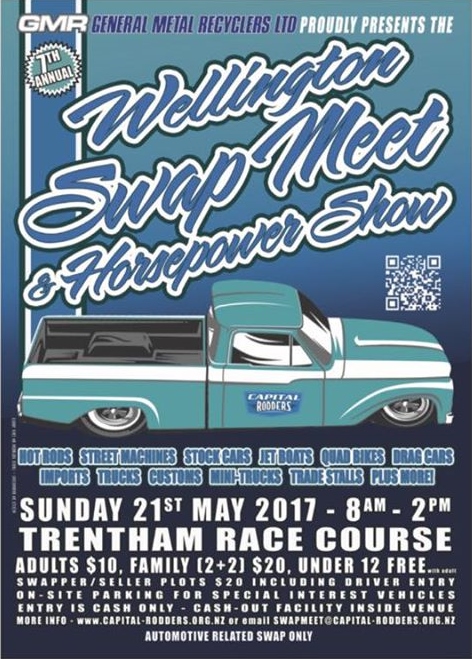 Here are some pictures from recent events. You can also check out more pictures on our facebook page