Capital Rodders Club meetings - 7.30pm on the last Tuesday of every month.
New members and visitors are all welcome to come along to a club meeting at the club rooms, Onepoto Road, Titahi Bay, Porirua.
2nd Oct Tararua Rodders Chrome & Custom Show, Levin
2nd Oct Capital Rodders Breakfast, Kaitoke- Aston Norwood
16th Oct Ladies V8 Run
5th-6th Nov Masterton Motorplex - Test & Tune MMP and Outlaw 71
6th Nov Capital Rodders Breakfast, Kaitoke - Aston Norwood
13th Nov Wheels N Deals Swapmeet, Featherston School
23-27th Nov Beach Hop, Whangamata
27th Nov Port Road Drags
10-11 Dec Masterton Motorplex - Championship MMP
2022 Guide Dog Fun Run
Thanks to everyone that turned out for the annual Capital Rodders Guide Dog Fun Run on 25 September.
It was great event. Thanks again to all of our sponsors.
Over the years we have been running this event we have raised over $30,000 for the Blind Foundation.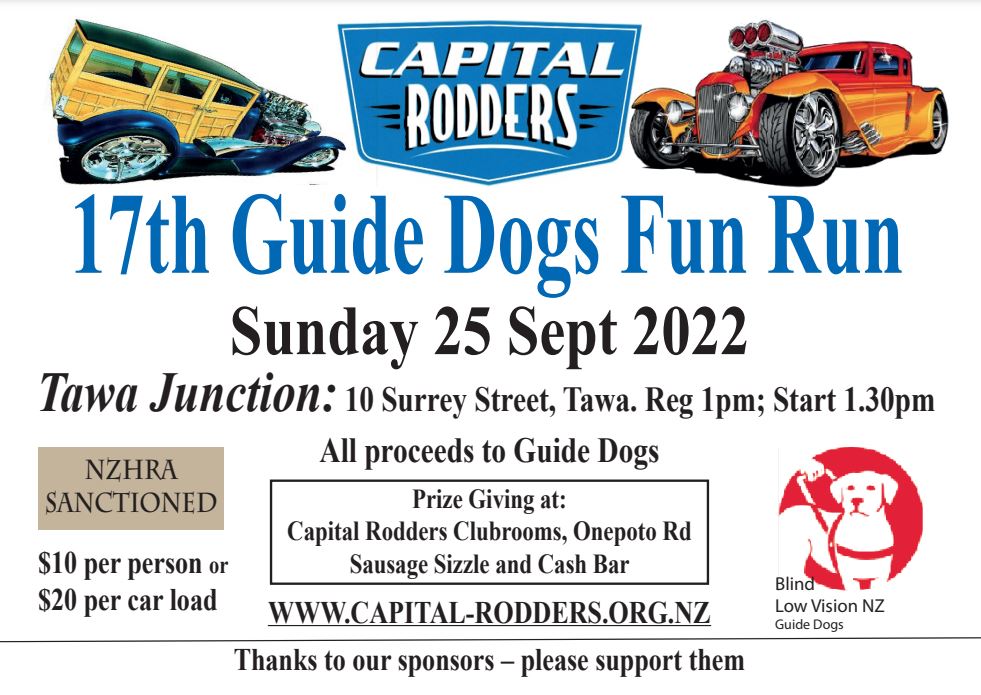 2022 Swap Meet
The Capital Rodders General Metal Recyclers 12th annual Horsepower Display and Swap Meet was held Sunday 22 May at the Trenthan Racecourse, Upper Hutt.
Thanks to everyone that came out and anjoyed the day.
This event is always popular with a great variety of vehicles and horsepower on display, awesome car parts stalls, auto memorabilia and many happy customers.
Enquiries to swapmeet@capital-rodders.org.nz.
Special thanks to our sponsor General Metal Recyclers.